The website RunYourPool.com provides pool commissioners with a web-based platform to create, host, and manage sports/pop-culture pools. The Run Your Pool's pools are all private and are run according to the sole discretion of the pool commissioner, who controls and has access to all settings, rules, picks, and other aspects of the pool.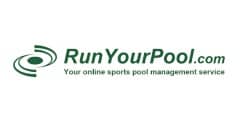 By joining a private pool, you accept that the pool commissioner is in control of the pool and that you must address any concerns directly with him. For a fee, RunYourPool.com provides pool management services to pool commissioners.
Frequently Asked Questions
If a member does not have an email address, what should they do?
Should one of your pool members not have access to email to register, you can use your email address on their account. Email addresses in our system do not have to be unique.
Is there an app for Run Your Pool?
Their website has been optimized for mobile devices, and they also have an app available on Google Play and Apple App Store.
Can the website collect the fee from the participants, or do we need to use another resource?
It does not collect money or pay winners. In exchange for hosting the pool and taking statistical measurements, they charge The Pool Commissioner a small fee. Since they cannot keep track of members' jurisdictions and local laws, they have a "no gambling" policy and only offer services for entertainment/marketing purposes. Make sure you comply with the laws of your jurisdiction and our terms of service.
Is it possible to delete my pool?
If you are a pool commissioner, you can delete a pool by logging in with your commissioner username and password, going to your Pool Memberships page, clicking Options, and then deleting the pool. Click on the pool you want to delete. Please note that it is permanent when deleting, so if you are unsure, you may want to Archive your pool instead.